Boulevard Trophy & Engraving was founded in 1971, starting out as a small sub-section of a gift store located inside the Boulevard Mall. (Hence the name, for those who are curious!)  Since then, we have grown as Las Vegas has grown, moving out of the mall and expanding into our own storefront in 1976. In 2001 we moved into a brand new 7000 square-foot stand-alone facility at 5007 S. Tamarus St., near Tropicana Ave. and Maryland Parkway in Las Vegas. Over the years, our staff has grown as well.
Expertise: Showroom, Front Office Management, On-site Customer Assistance
As owner, Joe is the man in charge, overseeing the operations of the shop as well as helping customers get what they need every day. Joe is always willing to go the extra mile, and has instilled this same sense of unflinching attention to customer service in the rest of the Boulevard Trophy staff. Joe can be found at the shop every day, but also makes frequent visits to customers on location when their needs require it. He's also not beyond helping out with production when a huge job needs everyone to lend a hand.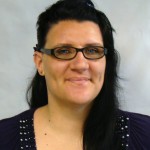 Expertise: Showroom, Front Office Administration, Customer Assistance
Misty Rodgers is the front office face of Boulevard Trophy. In this important role, along with Joe she handles the majority of in-store interaction with customers and has an almost encyclopaedic-knowledge of products and manufacturers in our industry. Misty is responsible for invoicing and accounts payable and receivable. Not only is she talented in the showroom, but she has also mastered the art of hand engraving – an exacting, time-consuming process which she has spent years learning to perfect. Misty is also always the first hand on-deck when crunch time comes and all hands are needed in production.
Expertise: Laser Engraving, Rotary Engraving, Systems Maintenance
Mike May is a senior member of our production team and his years of experience in rotary and laser engraving make him an invaluable asset to Boulevard Trophy.  He is also the person that the shop turns to in order to keep all systems up and running. In a modern trophy and engraving shop such as ours, this includes a wide variety of state-of-the-art equipment including our rotary bit machine, three laser machines, half a dozen printers and over a dozen computers. Mike's experience also extends to sublimation, trophy assembly, and showroom sales.
Expertise: Head Stamp Designer, Trophy Assembly, Product Prep, Painting, Sandblasting
In addition to his expertise in virtually all aspects of production at Boulevard Trophy, Michael Rodgers is in charge of design, layout and production of our rubber stamp products (via A-1 Rubber Stamp, here in our location). Michael's extensive knowledge and hands-on experience with our state-of-the-art equipment here at Boulevard Trophy is consistently in practice. Energetic and always upbeat, he is always happy to be of assistance to our customers in-store, as well.
Expertise: Laser Engraving, Rotary Engraving, Graphic Layout, Product Prep, Customer Assistance
On any given day, you can find Alexandra Chesser busy engraving things: Metal, crystal, acrylic, glass – and that's just for starters. Her expertise with our laser rotary engraver is constantly in use as she is in charge of everything from graphic layout and production of our own engraved products as well as the wide variety of  items and gifts that our customers bring to us to personalize. Alexandra's smiling face can also be found assisting customers in our showroom or pitching in to make sure project deadlines are met.
Nick Moss
Expertise: Trophy Assembly, Product Prep, Painting, Sandblasting, Front Office Support
Nick Moss is a vital link in production for most orders that pass through Boulevard Trophy. His production-oriented duties in custom mounting, sandblasting, painting and more ensure that his experience continues to grow as new and different custom work constantly crosses his desk. He is often the important finishing stop for a complicated piece that has already gone through the hands of several others. Always in motion, Nick can be found building products, updating our ever-changing showroom displays, and offering front office support.